Tag Archives:
watcher
The Uncanny X-Men #201 from January 1986 titled "Duel".
Featured are Cyclops, Wolverine, Storm, Rogue, Nightcrawler, Colossus, Kitty Pryde, Rachel Summers, Professor X, Cannonball, Mirage, Sunspot, Magik, Wolfsbane, Cypher, Warlock, Madelyne Pryor, Nathan Christopher Charles Summers, John and Elaine Grey, Lilandra, Corsair, Binary, Raza, Ch'od, Hepzibah, Waldo, Magneto, The Watcher, and Ronald Reagan.
Also included in this episode is commentary on Alpha Flight #29, Captain Britain #12, Defenders #150, New Mutants #35, and Secret Wars II #6.
Theme Music:
Lazlo Hollyfeld – Buffaloallamericacity
Standard Podcast
[ 56:39 ]
Play Now
|
Play in Popup
|
Download
(822)
Posted in

Danger Room Podcast, Danger Room: The X-men Comics Commentary Podcast
Tagged

Alpha Flight (Series), binary, cable, cannonball, Captain Britain (Series), carol danvers, ch'od, colossus, corsair, cyclops, cypher, Defenders (Series), elaine grey, hepzibah, john grey, kitty pryde, lilandra, madelyne pryor, magik, magneto, mirage, New Mutants, New Mutants (Series), nightcrawler, professor x, rachel summers, raza, rogue, ronald reagan, Secret Wars II (Series), Starjammers, storm, sunspot, The Uncanny X-Men (Series), waldo, warlock, watcher, wolfsbane, wolverine, X-Men
Leave a comment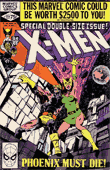 Adam and Jeremy read and comment on The Uncanny X-Men #137 from September 1980 titled "The Fate of the Phoenix!" This issue features Cyclops, Wolverine, Nightcrawler, Colossus, Storm, Beast, Angel, Professor X, Lilandra, Gladiator, Marvel Girl, Phoenix, Dark Phoenix, the Supreme Intelligence, Rk'lll, Starbolt, Oracle, Smasher, Warstar, Earthquake, Hussar, Manta, the Recorder, and the Watcher.
Also included in this episode is commentary on Classic X-Men #43 from January 1990 titled "Flights of Angels".
Sound Clips in Show #121
Taps –  Traditional
Sound clip from "Comics in Focus: Chris Claremont's X-Men"

Standard Podcast
[ 1:41:35 ]
Play Now
|
Play in Popup
|
Download
(1943)
Posted in

Danger Room Podcast, Danger Room: The X-men Comics Commentary Podcast
Tagged

angel, beast, colossus, cyclops, dark phoenix, earthquake, gladiator, hussar, Kree, lilandra, manta, marvel girl, nightcrawler, oracle, professor x, recorder, rk'lll, Skrulls, smasher, starbolt, storm, supreme intelligence, warstar, watcher, wolverine, X-Men
1 Comment