Tag Archives:
roulette
New Mutants #33, Alpha Flight #28, Captain Britain #11, Dazzler #40, Defenders #149, Firestar #3, and Secret Wars II #5 from November 1985 to May 1986.
Titles include "Against All Odds", "Cross-Over", "The House of Baba Yaga", "Travelers", "Lonely as a Cloud–!", "This Lady Kills!", and "Despair!"
Featured are Wolverine, Storm, Rogue, Nightcrawler, Colossus, Kitty Pryde, Rachel Summers, Dazzler, Mirage, Cannonball, Sunspot, Wolfsbane, Magma, Magik, Warlock, Doug Ramsey, Firestar, Boom Boom, Black Knight, Captain America, Captain Marvel, Hercules, Starfox, Thor, Wasp, Mockingbird, Hawkeye, Iron Man, Tigra, Wonder Man, Mr Fantastic, Human Torch, She-Hulk, Invisible Woman, Dr Strange, Karma, S'ym, Emma Frost, Sebastian Shaw, Selene, Roulette, Empath, Algrim the Elf, the Beyonder, and the Celestials: Eson, Nezarr, Gammenon, Ziran (yeah, I looked that up).
Theme Music:
Lazlo Hollyfeld – Buffaloallamericacity
Standard Podcast
[ 1:02:45 ]
Play Now
|
Play in Popup
|
Download
(1728)
Posted in

Danger Room Podcast, Danger Room: The X-men Comics Commentary Podcast
Tagged

algrim the elf, Alpha Flight (Series), Avengers, Avengers West Coast, beyonder, black knight, boom boom, cannonball, captain america, Captain Britain (Series), captain marvel ii, Celestials, colossus, cypher, dazzler, Dazzler (Series), Defenders (Series), dr strange, emma frost, empath, eson, Fantastic Four, firestar, Firestar (Series), gammenon, hawkeye, Hellfire Club, hercules, human torch, invisible woman, iron man, karma, kitty pryde, magik, magma, mirage, mockingbird, mr fantastic, New Mutants, New Mutants (Series), nezarr, nightcrawler, rachel summers, rogue, roulette, s'ym, sebastian shaw, Secret Wars II (Series), selene, she-hulk, starfox, storm, sunspot, thor, tigra, warlock, wasp, wolfsbane, wolverine, wonder man, X-Men, ziran
Leave a comment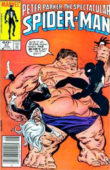 Adam and Jeremy read and comment on an assortment of books from June 1984 to April 1986 including Peter Parker, The Spectacular Spider-Man #91, Mighty World of Marvel #14-16, and Firestar #1 and 2. Titles include "If It wasn't for Bad Luck…", "Bad Moon Rising", "Tea and Sympathy", "In All the Old Familiar Places…", "Mark of the Mutant!", and "The Players and the Pawn!" These issues feature Wolverine, Storm, Nightcrawler, Colossus, Kitty Pryde, Professor X, Cannonball, Wolfsbane, Sunspot, Mirage, Magma, Magik, Angelica Jones, Spider-Man, Black Cat, Robbie Robertson, Flash Thompson, Aunt May, Captain Britain, Betsy Braddock, Meggan, Slaymaster, Emma Frost, Jetstream, Catseye, Thunderbird II, Roulette, Empath, Sebastian Shaw, Blob, and Unus.
Sound Clips in Show #187
The Rolling Stones – Oh No Not You Again
Creedence Clearwater Revival – Bad Moon Rising
Standard Podcast
[ 1:01:53 ]
Play Now
|
Play in Popup
|
Download
(1797)
Posted in

Danger Room Podcast, Danger Room: The X-men Comics Commentary Podcast
Tagged

aunt may, black cat, blob, cannonball, captain britain, catseye, colossus, emma frost, empath, firestar, Firestar (Series), flash thompson, Hellions, jetstream, kitty pryde, magik, magma, meggan, Mighty World of Marvel (Series), mirage, nightcrawler, professor x, psylocke, robbie robertson, roulette, sebastian shaw, slaymaster, Spectacular Spider-Man (Series), spider-man, storm, sunspot, unus, warpath, wolfsbane, wolverine, X-Men
Leave a comment