Tag Archives:
reese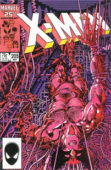 The Uncanny X-Men #205 from May 1986 titled "Wounded Wolf".
Featured are Wolverine, Katie Powers, Spiral, Cole, Reese, Macon, and Lady Deathstrike.
Also included in this episode is commentary on New Mutants #40 and X-Factor #4.
Theme Music:
Lazlo Hollyfeld – Buffaloallamericacity
Standard Podcast
[ 50:47 ]
Play Now
|
Play in Popup
|
Download
(1611)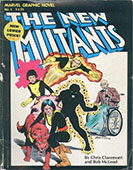 Adam and Jeremy read and comment on an assortment of books from November 1982 to May 1983 including Marvel Graphic Novel 4, New Mutants 1-3, Marvel Team-Up 124, Incredible Hulk 277, and Marvel Fanfare 7. Titles include "Renewal", "Initiation!", "Sentinels", "Nightmare", "The Ties that Bind!", "What Friends are For!", and "With Friends Like These…" These issues feature Rahne Sinclair, Moira MacTaggert, Roberto Da Costa, Sam Guthrie, Danielle Moonstar, Donald Pierce, Tessa, Xi'an Coy Mahn, Professor X, Wade Cole, Murray Reese, Stevie Hunter, Illyana Rasputin, Henry Peter Gyrich, Sebastian Shaw, Michael Rossi, the Brood, the Sentinels, Demon Bear, Banshee, Beast, Spider-Man, Professor Power, Vera, Hulk, Blob, Unus, and the U-Foes.

Sound Clip in Show #156
X-Men Evolution Theme
Standard Podcast
[ 2:00:52 ]
Play Now
|
Play in Popup
|
Download
(2484)
Posted in

Danger Room Podcast, Danger Room: The X-men Comics Commentary Podcast
Tagged

banshee, beast, blob, brood, cannonball, cole, donald pierce, henry peter gyrich, hulk, karma, magik, michael rossi, mirage, moira mactaggert, New Mutants, professor power, professor x, reese, sebastian shaw, sentinel, spider-man, stevie hunter, sunspot, tessa, U-Foes, unus, wolfsbane, X-Men
Leave a comment