Tag Archives:
namor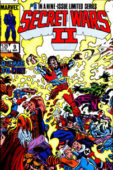 Secret Wars II #9, Alpha Flight #33, Dazzler #42, New Mutants #38, The Vision and the Scarlet Witch #6, and X-Factor #2, from March and April 1986.
Titles include "God in Man, Man in God!", "A Friend in Need", "Curtain!", "Aftermath!", "No Strings Attached!", and "Bless the Beasts and Children".
Featured are Cyclops, Wolverine, Storm, Rogue, Nightcrawler, Colossus, Kitty Pryde, Rachel Summers, Magneto, Dazzler, Angel, Beast, Iceman, Marvel Girl, Mirage, Cannonball, Sunspot, Wolfsbane, Magma, Karma, Magik, Warlock, Cypher, Brightwind, Mr Fantastic, Human Torch, She-Hulk, Invisible Woman, Thing, Captain America, Captain Marvel II, Hercules, Namor, Thor, Wasp, Hawkeye, Iron Man II, Mockingbird, Tigra, Vision, Scarlet Witch, Wonder Man, Aurora, Box, Heather Hudson, Northstar, Puck, Shaman, Snowbird, Talisman, Cloak, Dagger, Hulk, Spider-Man, Power Man, Iron Fist, Silver Surfer, Crystal, Quicksilver, Dr Strange, Stevie Hunter, Artie, Vera, Rusty, Tower, Carl Maddicks, Toad, Empath, Emma Frost, Molecule Man, Volcana, Mephisto, the Beyonder, and Lady Deathstrike.
Theme Music:
Lazlo Hollyfeld – Buffaloallamericacity

Podcast (dangerroompodcast): Play in new window | Download
Posted in

Danger Room Podcast, Danger Room: The X-men Comics Commentary Podcast
Tagged

Alpha Flight, Alpha Flight (Series), angel, artie, aurora, Avengers, beast, beyonder, box, brightwind, cannonball, captain america, captain marvel ii, carl maddicks, cloak, colossus, crystal, cyclops, cypher, dagger, dazzler, Dazzler (Series), dr strange, emma frost, empath, Fantastic Four, hawkeye, heather hudson, hercules, hulk, human torch, iceman, invisible woman, iron fist, iron man ii, karma, kitty pryde, lady deathstrike, luke cage, magik, magma, magneto, marvel girl, mephisto, mirage, mockingbird, molecule man, mr fantastic, namor, New Mutants, New Mutants (Series), nightcrawler, northstar, phoenix ii, puck, quicksilver, rachel summers, rogue, rusty, scarlet witch, Secret Wars II (Series), shaman, she-hulk, silver surfer, snowbird, spider-man, stevie hunter, storm, sunspot, talisman, thing, thor, tigra, toad, tower, vera, vision, Vision and Scarlet Witch (Series), volcana, warlock, wasp, West Coast Avengers, wolfsbane, wolverine, wonder man, X-Factor, X-Factor (Series), X-Men
Leave a comment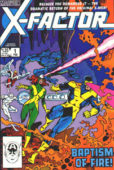 X-Factor #1, Avengers #263, and Fantastic Four #286, from January and February 1986.
Titles include "Third Genesis", "What Lurks Below?", and "Like a Phoenix!"
Featured are Cyclops, Iceman, Angel, Beast, Marvel Girl, Captain America, Wasp, Black Knight, Namor, Captain Marvel II, Hercules, Jarvis, She-Hulk, Invisible Woman, Mr Fantastic, Human Torch, Madelyne Pyror, Nathan Christopher Charles Summers, Candy Southern, Rusty Collins, and Cameron Hodge.
Theme Music:
Lazlo Hollyfeld – Buffaloallamericacity

Podcast (dangerroompodcast): Play in new window | Download
Posted in

Danger Room Podcast, Danger Room: The X-men Comics Commentary Podcast
Tagged

angel, Avengers, Avengers (Series), beast, black knight, cable, cameron hodge, candy southern, captain america, captain marvel ii, cyclops, Fantastic Four, Fantastic Four (Series), hercules, human torch, iceman, invisible woman, jarvis, madelyne pryor, marvel girl, mr fantastic, namor, rusty collins, she-hulk, wasp, X-Factor, X-Factor (Series)
Leave a comment