Tag Archives:
madelyne pryor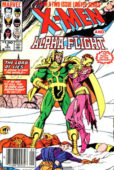 X-Men and Alpha Flight #2 from January 1986 titled "The Gift: Part II".
Featured are Cyclops, Wolverine, Storm, Rogue, Nightcrawler, Colossus, Kitty Pryde, Professor X, Rachel Summers, Lockheed, Madelyne Pryor, Shaman, Sasquatch, Aurora, Snowbird, Puck, Northstar, Talisman, Heather Hudson, Master Builder, Earth-Mover, Lord of the Plants, Cornucopia, Brawler, Beastmaster, Pathfinder, Lore Lord, Loki, and a few Snow Giants.
Also included in this episode is commentary on Marvel Team-Up 149 and 150.
Sound Clips in Show #203
Sons and Daughters – This Gift
Henry Mancini – The Greatest Gift
Standard Podcast
[ 1:30:28 ]
Play Now
|
Play in Popup
|
Download
(1224)
Posted in

Danger Room Podcast, Danger Room: The X-men Comics Commentary Podcast
Tagged

Alpha Flight, anodyne, aurora, beastmaster, brawler, colossus, cornucopia, cyclops, earth-mover, heather hudson, kitty pryde, lockheed, loki, lord of the plants, lore lord, madelyne pryor, Marvel Team-Up (Series), master builder, nightcrawler, northstar, pathfinder, professor x, puck, rachel summers, rogue, sasquatch, shaman, snowbird, storm, talisman, wolverine, X-Men, X-Men and Alpha Flight (Series)
Leave a comment