Tag Archives:
kingpin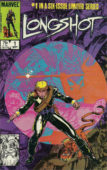 Longshot #1-3, Alpha Flight #26, Captain Britain #9, Dazzler #39, Defenders #147, and Secret Wars II #3 from September 1985 to November 1985.
Titles include "A Man Without a Past", "…I'll Wave to You From the Top!", "Just Let Me Die", "If At First You Don't Succeed…", "Winds of Change", "…and Games!", "Deathgrip", and "This World is Mine!"
Featured are Dazzler, Longshot, Ricochet Rita, Spiral, Kingpin, Molecule Man, Volcana, Jarvis, and the Beyonder.
Theme Music:
Lazlo Hollyfeld – Buffaloallamericacity

Podcast (dangerroompodcast): Play in new window | Download
Posted in

Danger Room Podcast, Danger Room: The X-men Comics Commentary Podcast
Tagged

Alpha Flight (Series), beyonder, Captain Britain (Series), dazzler, Dazzler (Series), Defenders (Series), jarvis, kingpin, longshot, Longshot (Series), molecule man, ricochet rita, Secret Wars II (Series), spiral, volcana
Leave a comment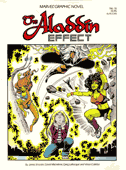 Adam and Jeremy read and comment on an assortment of books from February 1983 to January 1986 including Marvel Fanfare 24, Daredevil 196, Marvel Two-in-One 96, Dr Strange 57, Dr Strange 58, Marvel Team-Up 135, Marvel Team-Up Annual 6, and Marvel Graphic Novel 16. Titles include "Elegy", "Enemies", "Visiting Hours!", "Gather My Disciples Before Me!", "…At Loose Ends!", "Down Deep in Darkness!", "The Hunters and the Hunted", and "The Aladdin Effect". These issues feature Wolverine, Nightcrawler, Colossus, Storm, Kitty Pryde, Beast, Illyana Rasputin, Carol Danvers, Amanda Sefton, Wonder Man, Nick Fury, Captain Marvel II, Jarvis, Daredevil, Dr Strange, Wong, Spider-Man, Cannonball, Wolfsbane, Sunspot, Psyche, Cloak, Dagger, She-Hulk, Wasp, Tigra, pretty much every other good guy in the Marvel Universe, Bullseye, Kingpin, Sandman, Margali, AIM, the Morlocks, and Timekeeper.
Sound Clips in Show #169
Wanda Jackson – Let's Have a Party

Podcast (dangerroompodcast): Play in new window | Download
Posted in

Danger Room Podcast, Danger Room: The X-men Comics Commentary Podcast
Tagged

AIM, amanda sefton, Avengers, beast, binary, bullseye, cannonball, captain marvel ii, carol danvers, cloak, colossus, dagger, daredevil, dr strange, jarvis, kingpin, kitty pryde, magik, margali, mirage, Morlocks, New Mutants, nick fury, nightcrawler, sandman, she-hulk, spider-man, storm, sunspot, tigra, timekeeper, wasp, wolfsbane, wolverine, wonder man, wong, X-Men
1 Comment