Tag Archives:
jahf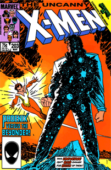 The Uncanny X-Men #203 from March 1986 titled "Crossroads".
Featured are Wolverine, Storm, Rogue, Colossus, Kitty Pryde, Rachel Summers, Magneto, Professor X, Corsair, Lilandra, Ch'od, Raza, Hepzibah, Jessica Drew, Jahf, the Beyonder, and the Watcher.
Also included in this episode is commentary on Alpha Flight #32, and Power Pack #20.
Theme Music:
Lazlo Hollyfeld – Buffaloallamericacity

Podcast (dangerroompodcast): Play in new window | Download
Posted in

Danger Room Podcast, Danger Room: The X-men Comics Commentary Podcast
Tagged

Alpha Flight (Series), beyonder, ch'od, colossus, hepzibah, jahf, kitty pryde, lilandra, magneto, nightcrawler, phoenix ii, Power Pack (Series), professor x, rachel summers, raza, rogue, sentinels, spider-woman, storm, The Uncanny X-Men (Series), watcher, wolverine, X-Men
Leave a comment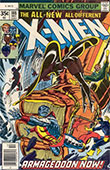 Adam and Jeremy read and comment on X-Men #108 from December 1977 titled "Armageddon Now!"  This issue features Cyclops, Wolverine, Nightcrawler, Colossus, Banshee, Storm, Phoenix, Professor X, Lilandra, Emperor D'Ken, Corsair, Ch'od, Raza, Hepzibah, Waldo, Peter Corbeau, Mr. Fantastic, Thing, Human Torch, Captain America, Beast, Black Panther, Wasp, Yellow Jacket, Jahf, Modt, Firelord, Misty Knight, and Jimmy Carter.
Also included in this episode is commentary on Classic X-Men #15 from November 1987 titled "Starjammers Aloft".
Sound Clips in Show #90
Def Leppard – Armageddon It
Talk of the Nation Theme
Daft Punk – Around The World

Podcast (dangerroompodcast): Play in new window | Download
Posted in

Danger Room Podcast, Danger Room: The X-men Comics Commentary Podcast
Tagged

banshee, beast, black panther, captain america, carter, ch'od, colossus, corsair, cyclops, d'ken, firelord, hepzibah, human torch, jahf, lilandra, misty knight, modt, mr fantastic, nightcrawler, peter corbeau, phoenix, professor x, raza, Starjammers, storm, thing, waldo, wasp, wolverine, X-Men, yellow jacket
Leave a comment