Tag Archives:
Fantastic Four (Series)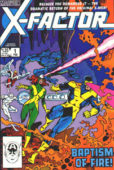 X-Factor #1, Avengers #263, and Fantastic Four #286, from January and February 1986.
Titles include "Third Genesis", "What Lurks Below?", and "Like a Phoenix!"
Featured are Cyclops, Iceman, Angel, Beast, Marvel Girl, Captain America, Wasp, Black Knight, Namor, Captain Marvel II, Hercules, Jarvis, She-Hulk, Invisible Woman, Mr Fantastic, Human Torch, Madelyne Pyror, Nathan Christopher Charles Summers, Candy Southern, Rusty Collins, and Cameron Hodge.
Theme Music:
Lazlo Hollyfeld – Buffaloallamericacity

Podcast (dangerroompodcast): Play in new window | Download
Posted in

Danger Room Podcast, Danger Room: The X-men Comics Commentary Podcast
Tagged

angel, Avengers, Avengers (Series), beast, black knight, cable, cameron hodge, candy southern, captain america, captain marvel ii, cyclops, Fantastic Four, Fantastic Four (Series), hercules, human torch, iceman, invisible woman, jarvis, madelyne pryor, marvel girl, mr fantastic, namor, rusty collins, she-hulk, wasp, X-Factor, X-Factor (Series)
Leave a comment
Fantastic Four #28 from July 1964 titled "We Have to Fight the X-Men!"
Featured are Professor X, Cyclops, Iceman, Angel, Beast, Marvel Girl, the Fantastic Four (Mr. Fantastic, the Invisible Girl, the Human Torch and the Thing), Puppet Master, The Mad Thinker, and the Android.
Sound Clips in Show #6
Fantastic Four Golden Record Reprint #1
Title Theme from Fantastic Four ('94)

Podcast (dangerroompodcast): Play in new window | Download
Posted in

Danger Room Podcast, Danger Room: The X-men Comics Commentary Podcast
Tagged

alicia masters, android, angel, beast, cyclops, Fantastic Four, Fantastic Four (Series), human torch, iceman, invisible girl, mad thinker, marvel girl, mr fantastic, professor x, puppet master, thing, X-Men
Leave a comment