Tag Archives:
Avengers (Series)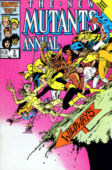 New Mutants Annual #2 from July 1986.
Featured are Mirage, Cannonball, Storm, Magik, Magma, Sunspot, Wolfsbane, Karma, Cypher, Warlock, Psylocke, Captain Britain, Meggan, Leong Coy Mahn, Nga Coy Mahn, Spiral, and Mojo.
Also included in this episode is commentary on Web of Spider-Man Annual #2 and Avengers Annual #15.
Theme Music:
Lazlo Hollyfeld – Buffaloallamericacity

Podcast (dangerroompodcast): Play in new window | Download
Posted in

Danger Room Podcast, Danger Room: The X-men Comics Commentary Podcast
Tagged

annual, Avengers (Series), cannonball, captain britain, cypher, karma, leong coy mahn, magik, magma, meggan, mirage, mojo, New Mutants, New Mutants (Series), nga coy mahn, psylocke, spiral, sunspot, warlock, Web of Spider-Man (Series), wolfsbane
Leave a comment