Tag Archives:
andromeda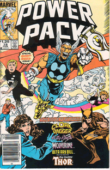 Power Pack #19, Alpha Flight #31, Captain Britain #14, Defenders #152, Secret Wars II #8, and New Mutants #37, from February and March 1986.
Titles include "Guess Who's Coming to Dinner?", "The Grateful Dead!", "Should Auld Acquaintance…", "The End of All Songs", "Betrayal!", and "If I Should Die".
Featured are Wolverine, Rogue, Colossus, Kitty Pryde, Rachel Summers, Magneto, Mirage, Cannonball, Sunspot, Wolfsbane, Magma, Karma, Magik, Warlock, Doug Ramsey, Brightwind, Beast, Angel, Iceman, Candy Southern, Energizer, Lightspeed, Mass-Master, Gee, Erg, Ape, Annalee, Leech, Beta Ray Bill, Franklin Richards, Cloak, Dagger, Valkyrie, Gargoyle, Andromeda, Interloper, She-Hulk, Manslaughter, Moondragon, Hulk, Spider-Man, Molecule Man, Volcana, and the Beyonder.
Theme Music:
Lazlo Hollyfeld – Buffaloallamericacity

Podcast (dangerroompodcast): Play in new window | Download
Posted in

Danger Room Podcast, Danger Room: The X-men Comics Commentary Podcast
Tagged

Alpha Flight (Series), andromeda, angel, annalee, ape, beast, beta ray bill, beyonder, brightwind, candy southern, cannonball, Captain Britain (Series), cloak, colossus, cypher, dagger, Defenders (Series), energizer, erg, franklin richards, gargoyle, gee, hulk, iceman, interloper, karma, kitty pryde, leech, lightspeed, magik, magma, magneto, manslaughter, mass-master, mirage, molecule man, moondragon, New Mutants, New Mutants (Series), phoenix ii, Power Pack, Power Pack (Series), rachel summers, rogue, Secret Wars II (Series), she-hulk, spider-man, sunspot, valkyrie, volcana, warlock, wolfsbane, wolverine, X-Men
1 Comment