Tag Archives:
amahl farouk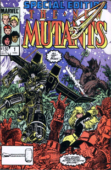 New Mutants #34 and New Mutants Special Edition #1 from December 1985 titled "With a Little Bit of Luck!" and "Home is Where the Heart Is".
Featured are Storm, Professor X, Mirage, Cannonball, Sunspot, Wolfsbane, Magma, Magik, Warlock, Cypher, Karma, Hrimhari, Eitri, Kindra, Brightwind, Mist, Volstagg, Fandrall, Hogun, S'ym, Amahl Farouk, Loki, Enchantress, and Hela.
Theme Music:
Lazlo Hollyfeld – Buffaloallamericacity
Standard Podcast
[ 1:29:00 ]
Play Now
|
Play in Popup
|
Download
(2356)
Posted in

Danger Room Podcast, Danger Room: The X-men Comics Commentary Podcast
Tagged

amahl farouk, brightwind, cannonball, cypher, eitri, enchantress, fandrall, hela, hogun, hrimhari, karma, kindra, loki, magik, magma, mirage, mist, New Mutants, New Mutants (Series), professor x, s'ym, special edition, storm, sunspot, volstagg, warlock, wolfsbane
Leave a comment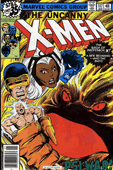 Adam and Jeremy read and comment on The Uncanny X-Men #117 from January 1979 titled "Psi War!" This issue features Cyclops, Wolverine, Nightcrawler, Colossus, Banshee, Storm, Phoenix, Misty Knight, Professor X, Lilandra, and Amahl Farouk.
Also included in this episode is commentary on Classic X-Men #23 from July 1988 titled "Nightcrawler's High Adventure".
Sound Clips in Show #99
Lapti Nek – Return of the Jedi Song
The Rubinoos – Revenge of the Nerds
Standard Podcast
[ 1:10:45 ]
Play Now
|
Play in Popup
|
Download
(2425)